Benefit from innovative tools on a platform, to facilitate the management of your projects.
The issues to be resolved
Choosing the right tools
Choosing the right planning and document management tools to manage construction sites is difficult. For example, managing planning with a spreadsheet has become the norm, yet its use is very limited.
Working together
It's a real challenge to ensure that all the players within the company and external service providers can work together with an accurate view of the projects in progress.
Having access to all the information
It's a challenge to make all the site documents available to the people concerned. Sharing information is essential for smooth progress and final reporting.
Accessing historical data
How do you keep all the data on the work carried out on site? ERP systems don't meet this need, so business solutions are required.
Financing
According to the Banque de France, customer and supplier payment times exceed 75 days in the construction industry. Solutions to relieve cash flow can become essential. « 
You have an access to tools that enable you to manage 100% of your projects, and therefore the work carried out by your in-house installers. External installers from companies that are already service providers can be registered in your account.
Planning
You can create a site then the missions depending on the profession carried out. You can document the mission and propose it to an installer.
Sharing document
Share your documents, plans and photos with installers.
Document management
The platform generates administrative documents: Purchase order and for the installer, document of achievement and its invoice.
Mobile Apps
Collaborators and installers can download the mobile apps and get all information from construction sites.
You can find installers based on their skills in the building trades. You choose your installers based on their experience, the number of missions carried out and their evaluations. As soon as the installer accepts, you receive his tax data as well as his insurance. You pay the installer's invoice in 60 days.
Finding installers
Their bases are as close as possible to the site. You choose the skills required. You propose the mission to the technicians of your choice and as soon as they accept, you receive their vigilance and insurance data.
Assessment of assignments
At a glance, you can see the quality of all the work carried out by the installer. The grade is calculated jointly by the installer and the client on the basis of 5 criteria.
Save money
Reduce your installers' travel costs. A local strategy that makes them more efficient when working on your sites and has a positive impact on your budget.
Mission financing
Relieve your cash flow by avoiding cash payments and paying within 60 days. LOCALTEAMS pays 90% of installers' invoices within 48 hours, so you can build up their loyalty.
Reduce travel for installers.
Think local and protect the planet !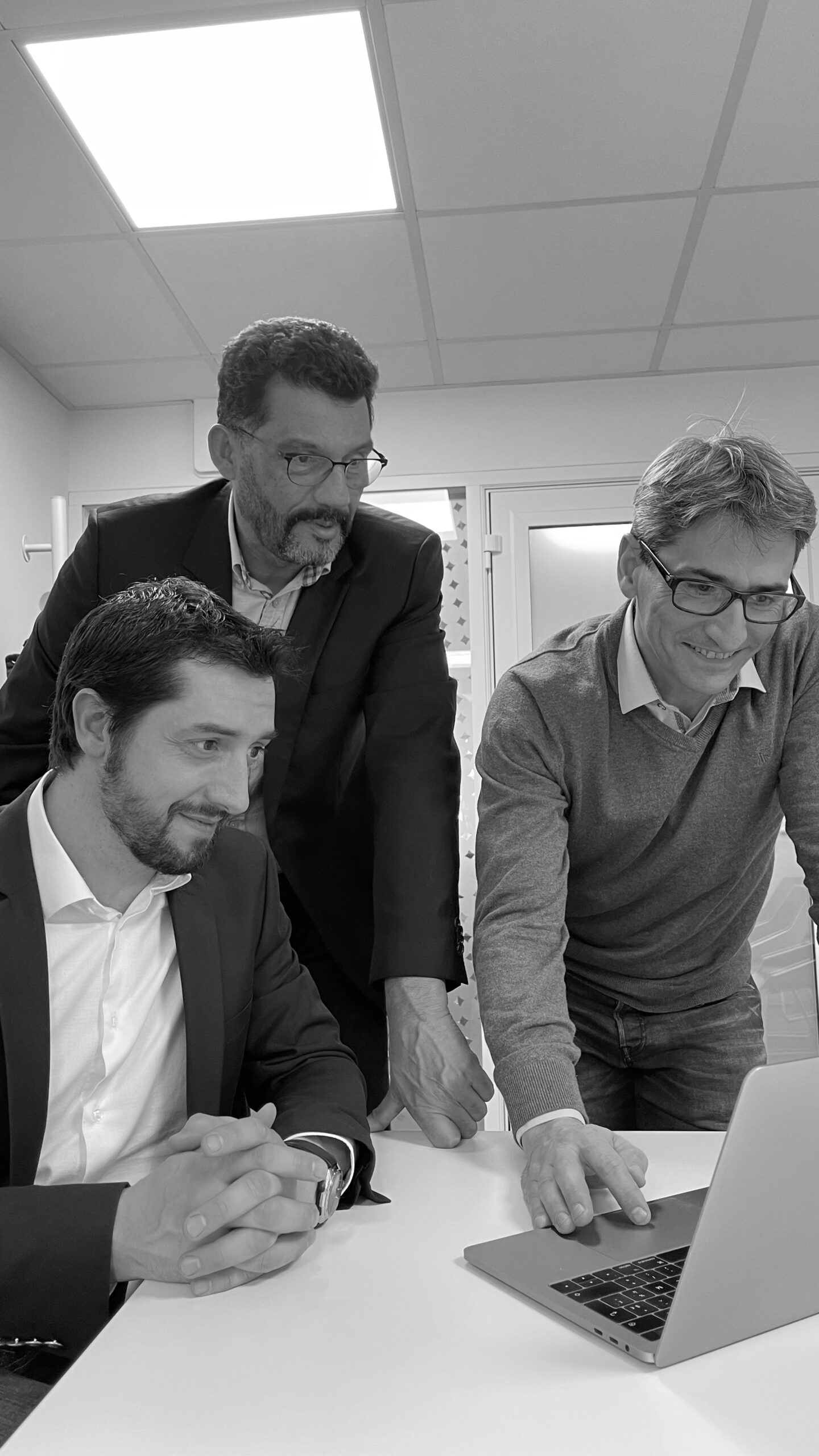 Michel MARTINEZ (CEO) and Denis AUMIS (COO), each with more than 25 years' experience in the building industry,
Gilles VIGUIÉ (CTO) with 15 years' experience in service platforms dedicated to technical interventions in SaaS mode and in the Google Cloud Platform environment.
We wanted to make life a lot easier for contractors and installers, so that they could optimise their site management locally and cut costs.  As a result, they can reduce their polluting emissions by greatly reducing the need for contractors to travel.
Thanks to its unique multi-service platform and mobile application, LOCALTEAMS digitises and dematerialises a large proportion of tasks, facilitating document flow and responsiveness and easing cash flow on both sides.
LOCALTEAMS does not subcontract its work. We make sure that the companies on the platform are reputable. We are independent and therefore not biased. The platform provides a balance in the relationships between the players and ensures that everyone takes responsibility. Clients choose with whom to carry out assignments by accessing a national network, as they already do.
LOCALTEAMS brings together only companies that are recognised in their field
Every day, LOCALTEAMS partners add new skills to meet specific needs.
The savings made by using local teams can range from 10 to 50% of the cost of the job. If the assignment is a long one, you might think that a team from far away could be cost-effective, but that's forgetting the hazards of the worksite, which often mean that a team has to be sent back to the site. In this case, proximity offers tremendous savings and unrivalled responsiveness.
Installation of temporary furniture for a promotional event.
Installation of temporary furniture for a promotional event.
Standard assignment (4 technicians for 2 days).
Dispatch of 4 of the client's in-house technicians.
The same assignment with LOCALTEAMS (4 technicians for 2 days)
Dispatch of a contractor's in-house technician, supplemented by a team of 3 local technicians.
33% saving on the overall installation budget
Installation of a duty-free shop corner for a clothing brand, complete with furniture and signage.
The same assignment with LOCALTEAMS (2 carpenters for 1 day)
Dispatch of a 2-person team from the usual service provider.
Mission of a local LOCALTEAMS team (2 carpenters for 1 day)
54% saving on the mission budget